5 Steps to Automating Your Instagram Posts
Things just got much easier when it comes to scheduling and posting Instagram posts for your brand and your clients. Hootsuite announced this week (8/10/15) that they are officially launching their Instagram stream and scheduling features. This means that you will have the luxury of being able to plan your content and images with little to no hassle.
With that being said, there are stipulations to this new feature. Because Instagram is known to be exclusively mobile, the postings have to be done on a mobile device. This can get tricky, but fortunately, we are here to help!
Here is our step-by-step guide to successfully setting up your Instagram management streams in the easiest manner possible to get the most out of your Hootsuite/Instagram integration:
Step One:
Download the Hootsuite app to whichever mobile device you plan on doing your posting from. This could be your office iPad or social media manager's phone. The app is available on both IOS and Android. Once installed, be sure to go into your device settings and turn on Hootsuite push-notifications. If you are on an iPad, you will have to open the application and select the settings icon in order to turn on the notifications (see right).
Step Two:
Create your Hootsuite account. If you are already using Hootsuite, you can move on to step three. If not, you'll need to create an account. Don't worry if you're a small company or only have a few Instagram accounts to manage, the free model of Hootsuite offers you three social networks without charge. So as long as you don't have more than three Instagram accounts to manage, it'll come at no cost!
Step Three:
Next, you'll need to add your Instagram account. This might be obvious for a habitual user; however, Instagram set-up is a little bit different than other social outlets. Click the "Add Social Network" button on your dashboard and proceed to connect your brand's account.
While your going through the set-up process, Hootsuite will ask for your mobile device's phone number. If you are using a phone, go ahead and input the number of the phone that you have installed your application on. If you are using an iPad, select the "set up later" option.
Step Four:
Next, it's time to test your set-up. Schedule your image along with the text as you would any other social media outlet. Be sure your image is perfectly square to adhere to Instagram's guidelines. Schedule your post for the closest time slot available.
Step Five: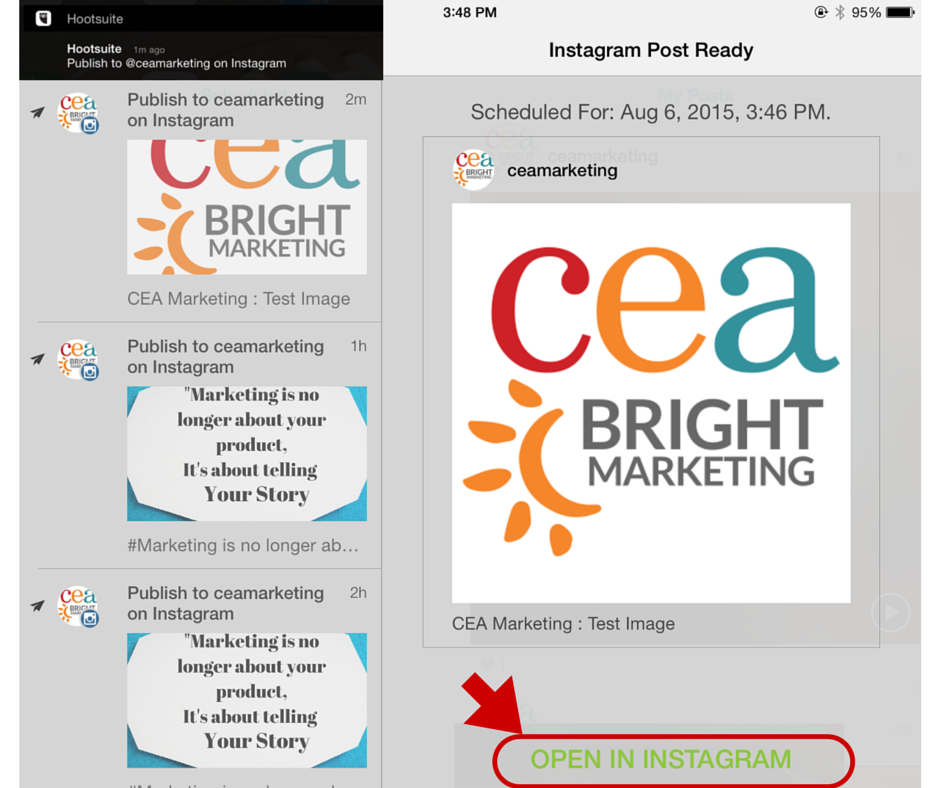 At the selected time, watch your device for a push notification from the Hootsuite application. Once the application shows on your device, all you need to do is tap it. Once you do, it will bring you to the post that you have scheduled. You'll be prompted to open it with your Instagram application and your image and content will be ready for you to share with your fans!
Have other questions on how to manage your social pages and brand efficiently? Contact us on the CEA Marketing Website or reach out to us on Twitter, Facebook, or Instagram!