Inbound Marketing Essentials: What is Inbound?
Sales is sort of like speaking Greek.
As a language that has stood the test of time for centuries, Greek has held many of the same basic rules and connotations. Like many other languages, it's mostly static and set-in-stone.
But on the same token, time goes on. Words are constantly being added, amended, and changed within the Greek language. Grammar rules have also become dynamic over the decades.
And in the agency world, sales in marketing isn't much different. Classic sales techniques like 'foot-in-the-door' and 'break-and-fix' have lasted on the shelf for quite a while and are still used today.
But the ways in which people interact is changing with the ebbs and flows of technology and communication. And with that, of course, marketing and sales methods are changing too.
And so are we.
Earlier this year, our agency began following an inbound marketing philosophy at CEA.
In a nutshell, inbound marketing encourages companies to comb the best aspects of classic marketing and sales tactics, integrate them with current trends and technologies, and shift from a push out orientation to a pull in marketing mindset:
Attract strangers. Convert them to leads. Close them as customers. Delight them as promoters. Rinse and repeat.
But inbound marketing is more than meets the eye. Holding fast to an inbound methodology goes more in-depth than a simple four-step process.
Hubspot, the founders of inbound marketing and the marketing giant who first coined the term 'inbound', refers to inbound as an "approach focused on attracting customers through content and interactions that are relevant and helpful—not interruptive."
When it gets down to basics, there is a fundamental difference between an outbound (traditional) marketing strategy and an inbound one.
According to Hubspot, "Unlike outbound marketing, inbound marketing does not need to fight for potential customers' attention. By creating content designed to address the problems and needs of your ideal customers, inbound marketing attracts qualified prospects and builds trust and credibility for your business."
Inbound is

focused on attracting customers through content and interactions that are relevant and helpful—not interruptive.
With inbound marketing, potential customers can discover and explore our agency through multiple distribution channels that offer the best of today's large-scale technology: blogs, search engines, and social media.
Pretty cool, huh? Here's what it looks like in motion: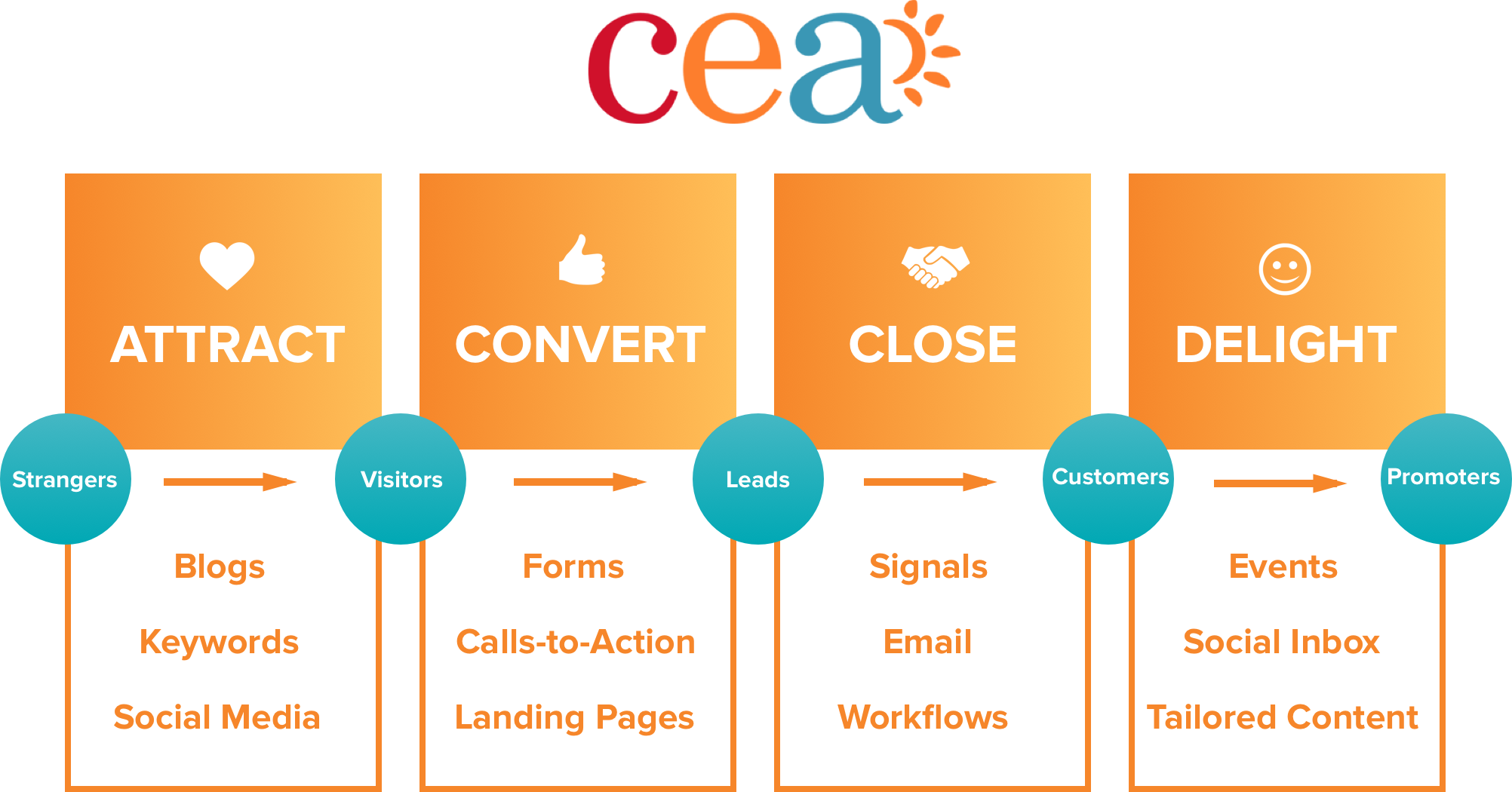 Through our Hubspot partnership, we're able to reach an attract a larger audience, create more compelling content to convert and close potential customers, and follow through with those customers so that they feel delighted long-term.
So now we know what inbound marketing is. But what exactly does it look like when it's played out in the marketplace?
And what are some of the benefits of using such a different method to do marketing and sales?
Next week in Part Two of our Inbound Series, we'll dive head-first into the nitty-gritty details. Stay tuned!
Interested in inbound? Learn more about our strategy from one of CEA's Hubspot Inbound Certified Specialists:
{{cta('12ab8ecb-e1fe-4f1e-913a-a8de1286d88f','justifycenter')}}