Wielding the Power of Reputation Management
People Google your company every day, but do they like what they see?
Here's the reality: a
few online voices can make or break your company's reputation.
Sounds scary, right? It's actually pretty common. Most online brands receive at least a few negative reviews and unsatisfactory feedback through Google, other search engines and social media platforms like Facebook reviews.
While it's not uncommon to receive negative reviews, there is a scary part after all:
Your future customers have full access to those reviews.
Online reviews are a powerful thermometer of your company's successes and areas for improvement. That's why it's crucial to add and maintain as many gold star reviews as possible — to consistently keep your company painted in a positive light.
That's where we step in. We help manage, enhance, and maintain your online reputation through tactics like email marketing, landing page design, blogs, and content production.
For every tactic, however, there is a strategy: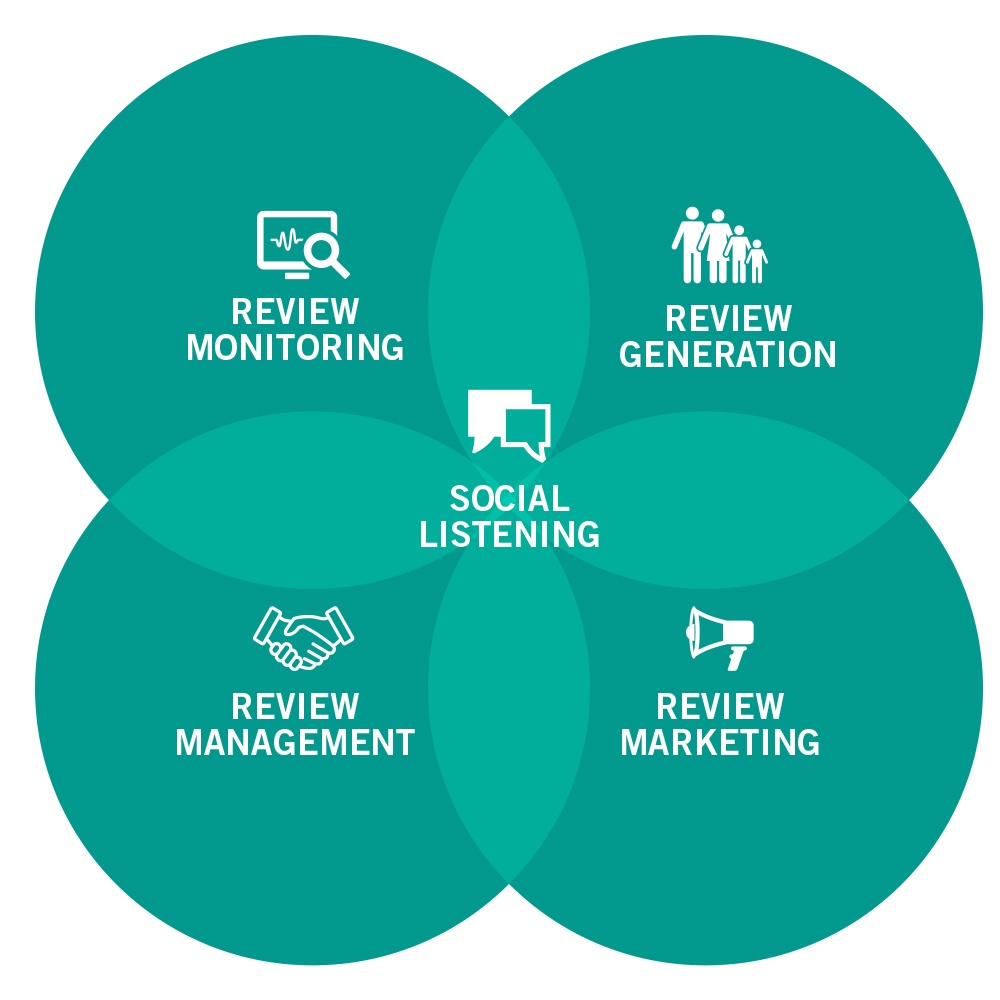 Review Monitoring
With new customer feedback in real-time, you'll never miss a word. Our reputation management services allow you to monitor all your reviews in one place so that whenever you need to take action on customer feedback, you can.
Review Generation
With intelligent, automatic customer feedback, accurate tracking of review success and real-time review alerts, generating new customer reviews has never been easier.
Review Management
Our reputation management services offer the freedom to respond directly to reviews, problem solve proactively and receive intuitive reporting based on customer feedback. Imagine monitoring and responding to all your reviews on all your sites, all in one place.
Review Marketing
With your customers as your revving engine, we'll improve your SEO, accelerate your SEM and engage potential customers on both your social media platforms and your own custom review site. After all, what could be easier than your reputation promoting itself?
Social Listening
With our help, you'll see every word of customer feedback on social media, discover influential conversations, interpret the latest trends in customer sentiment and respond to all customer comments from one place. How's that for efficiency?
Through our five pillars of the reputation management process, we're here to leverage the impact of online feedback and help you deliver on your brand promises.
Ready to collect more shiny online stars?
{{cta('7fb522e3-ab77-4b27-9dd9-cc45f1891eb0′,'justifycenter')}}