Facebook's Algorithm Update: What you Need to Know
Facebook's new algorithm change is no longer breaking news — after announcing its changes to how users see and interact with their news feeds, Facebook is making an effort to change its platform to one that focuses heavily on friends and family rather than targeted business ads.
While these changes have some running around like beheaded chickens — particularly brands and agencies who lean heavily on digital — the one thing I encourage you to do is this:
Don't panic.
From a social media standpoint, Facebook's algorithm changes make a lot of sense. From a marketing standpoint, the changes are still navigable.
But that hinges on having a good understanding of the changes and what strategies you can implement to stay afloat in social media marketing.
Remember, these changes are not taking an axe to your social media strategy. In fact, the changes will render better social media marketing from your business and better quality leads as a result.
What are the Facebook Changes?
Some businesses are already feeling the changes, many will start noticing them over the next few months as Facebook fully rolls out its algorithm.
Check out some of the key changes you should expect to see in coming months:

When someone logs in, their feed will have two sides – one for friends and family, and one for businesses. Users will be able to choose whether or not they want to see business pages at all.

Brands with the budget for Facebook advertising will still be able to appear on the friends and families page. However, the ad will have to contain all-star content for it to actually show up — it needs to be engaging, relevant, and valuable content rather than a sales push.




Pushy, salesy content will get dinged by Facebook and will only show up rarely, if at all.

Facebook knows its audiences and will only let promoted posts and Facebook ads show.
Essentially, what Facebook wants to see from businesses is relevant, compelling content that will actually resonate with audiences and result in engagement with comments, shares, and conversations between fans.
A Walk Through My Feed
To illustrate, let's go for a scroll down my feed — pay close attention to the types of advertisements, videos, businesses, events, and posts you see.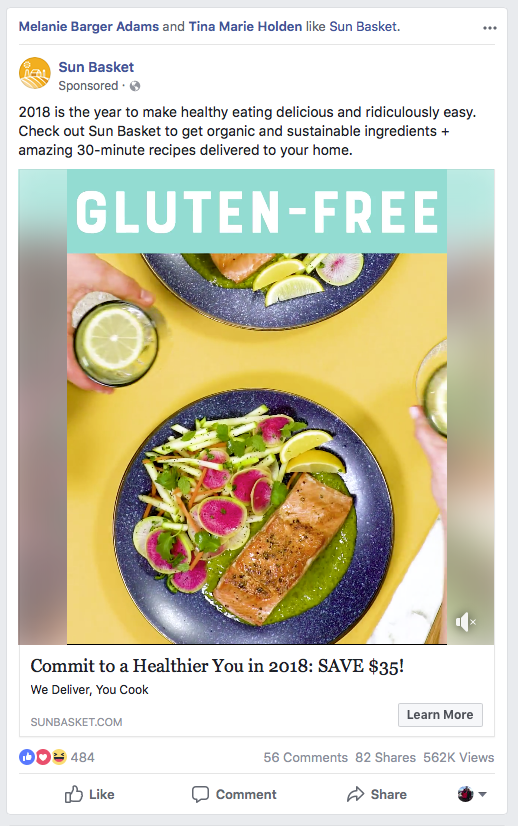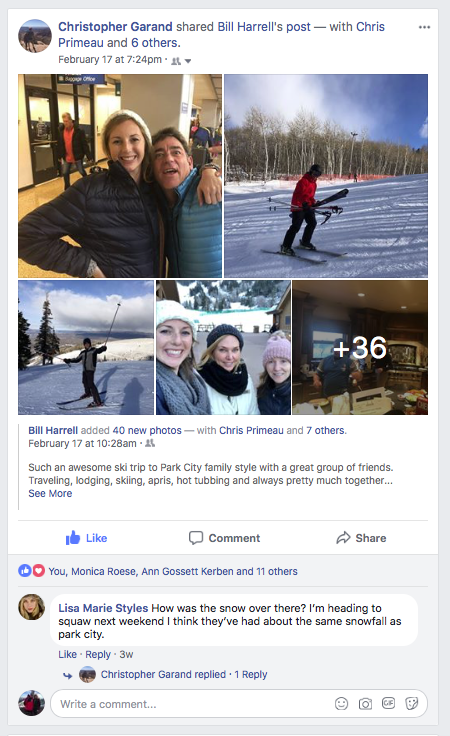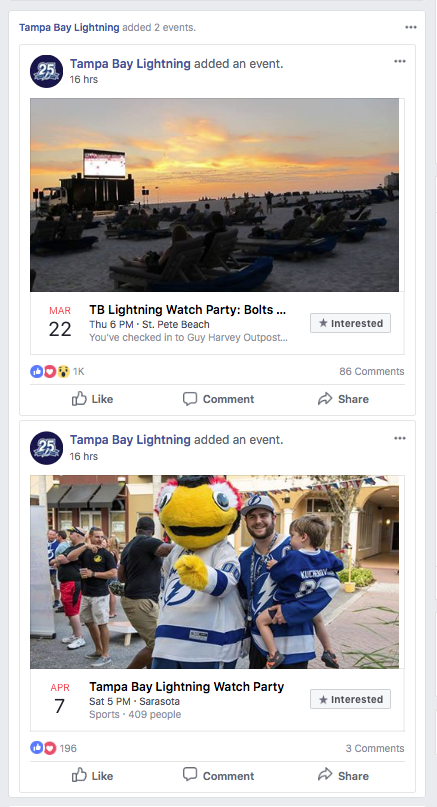 Facebook knows their users and knows how to target them. When I look through my feed as 1) an owner of a marketing agency and 2) someone who loves festivals and concerts, here is what I see most:
Advertisements from LinkedIn and other social media platforms discussing their value for business owners and marketing.

Marketing related advertisements, and/or business solutions for marketers.

LOTS of notices about events, concerts, festivals and from bands and festivals that I follow (in fact, I see so many of these, I have apparently liked over 50 events just for this month, which got a funny response from my boyfriend, saying that we apparently had a lot of dates coming up!)

Of course, friends and family.

Videos and FB Live videos are especially prevalent.
Take a look through your feed as well. What do you see?
You'll probably see things you've expressed interest in in the past as well as things that are relevant to what you do.
Because Facebook has become keen identifiers of what its users generally like, it has limited what types of ads and posts its users see. This helps create a social environment of high engagement, not just high impressions.
What exactly does this mean for you and your business? Businesses must learn to be better marketers and better at reading their audiences by creating content specifically designed to draw attention, boost engagement, and add value to people's lives.
In all reality, any good marketing strategy aims to do those things anyways, right?
Don't sweat these changes too much — there is no need to abandon your Facebook strategy. Just adjust it instead! At CEA Marketing, we're here to help you do just that.
Schedule a consultation with me today to learn exactly how we can help you adjust your Facebook strategy!
{{cta('8a5e3225-f2fa-400a-a1c3-8bcc78163937')}}